Disengageable Couplings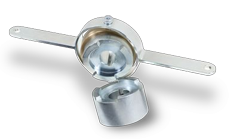 Disengageable couplings have a rugged, time tested design. They are best suited for starting, stopping, and reversing motions. Their most unique feature is the ability to engage and disengage a second in-line shaft upon demand. Misalignment is acceptable in these couplings up to .020" out of parallel and up to ½° angularity.
Need other styles?  See our Shaft Couplings options.
» Expanded View
» Tooth Clutch Design
Download Product Details(*13.5 Mb download)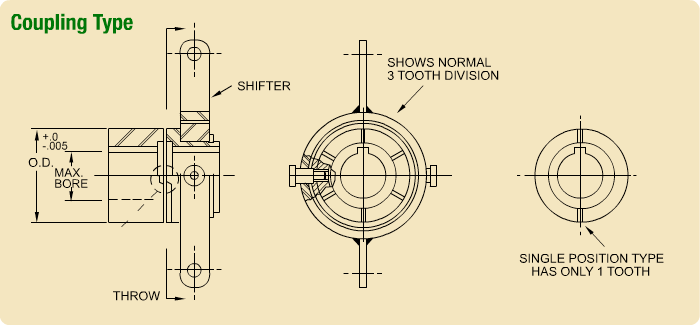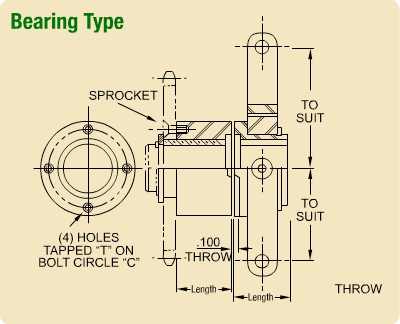 Notes:
Coupling (C) Type has internal keyway. Bearing (B) Type has oil impregnated bearing. Shifter assembly can be mounted on either type clutch for a small additional charge. Stationary side length can be increased as needed. Standard clutch has 3 teeth spaced 60º apart.
P/N EXAMPLES
Size: 1153-1.5
Type: C
No. Teeth: 3
Tooth Form: S
Bore Size: 3/4B
SHIFTER ARM
1153-1.5 x 6 x 6
Upper Extension (Actuating) 6
Lower Extention (Pivot) 6
For Shifter with holes 6 & 6 from C shaftL
Size
Outside Diameter
Std. Bore Shaft Diameter
Max. Bore Shaft Diameter
Std. No. of Teeth
Tooth Depth
Tooth Width
Clutch Length Open
Sifter or Stationary Length
Std. Throw
Stationary Side
Actuating Arm Bolt Hole Size
T Tapped Holes
C Diameter Bolt Circle
1
1.000
1/2
1/2
3
.080
.125
1.350
.625
.100
#4
.880
.281
1.5
1.500
3/4
3/4
3
.080
.175
1.850
.875
.100
#6
1.220
.281
2
2.000
1
1
3
.080
.250
2.600
1.250
.100
#8
1.690
.281
3
3.000
1-1/2
1-1/2
3
.180
.375
3.600
1.750
.100
#10
2.540
.406
4
4.000
2
2-1/4
3
.200
.438
5.250
2.500
.250
1/4
3.500
.406
6
6.000
3
3-1/2
3
.200
.625
7.250
3.500
.250
3/8
5.250
.656