Double Split Shaft Collars
Double split shaft collars are designed for applications that demand axial load capacities which exceed the capabilities of one-piece clamping collars and set screw collars. Easily installed where significant disassembly might otherwise be required, these two-piece clamping collars are ideal for mid-shaft applications that require greater axial holding power without removing an entire shaft for service. 
Effective on soft and hard shafts, DSP's heavy-duty double split collars are available with metric or English keyways. We also offer customizable options to meet your unique operational demands.
Two-Piece Split Collar Features: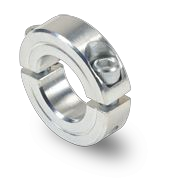 Will not mar shaft
Available Bore Sizes: 1/8" through 6"
Available Finishes: 303, 304 and 316 stainless steel and steel with black oxide finish. Two piece split collars are also available with custom finishes including zinc.
A valued partner for numerous manufacturers, DSP is proud to serve a wide array of companies, working within all sorts of different industries. From Fortune 500 manufacturers to inventive entrepreneurs, we maintain a loyal customer base that appreciates tailored products and solutions. Our double split shaft collars are suited for power transmission applications; however, they are also used in industries including athletic equipment, retail, medical and agricultural. Over the years, we have attained a well-earned reputation for delivering top-tier modified standards and customized products, which meet the unique requirements of our clients. We also offer superior customer service and timely deliveries to help keep your business moving at an optimal level. We are proud to offer competitive pricing on all shaft collar products.
Don't settle for cookie-cutter products and a one-size-fits-all approach. Let Dayton Superior Products provide your company with superior double split collars that will help your business achieve a higher standard of performance. Contact our office at 1-800-227-9083.
| Black Oxide | Stainless | Bore I.D. | O.D. | Width In. | Socket Heads |
| --- | --- | --- | --- | --- | --- |
| S2-012-BLA | S2-012-SSA | 1/8 | 1/2 | 1/4 | 4-40 |
| S2-018-BLA | S2-018-SSA | 3/16 | 5/8 | 5/16 | 4-40 |
| S2-025-BLA | S2-025-SSA | 1/4 | 11/16 | 5/16 | 4-40 |
| S2-031-BLA | S2-031-SSA | 5/16 | 11/16 | 5/16 | 4-40 |
| S2-037-BLA | S2-037-SSA | 3/8 | 7/8 | 11/32 | 6-32 |
| S2-043-BLA | S2-043-SSA | 7/16 | 15/16 | 3/8 | 6-32 |
| S2-050-BLA | S2-050-SSA | 1/2 | 1-1/8 | 13/32 | 8-32 |
| S2-056-BLA | S2-056-SSA | 9/16 | 1-1/4 | 7/16 | 10-32 |
| S2-062-BLA | S2-062-SSA | 5/8 | 1-5/16 | 7/16 | 10-32 |
| S2-068-BLA | S2-068-SSA | 11/16 | 1-3/8 | 7/16 | 10-32 |
| S2-075-BLA | S2-075-SSA | 3/4 | 1-1/2 | 1/2 | 1/4-28 |
| S2-081-BLA | S2-081-SSA | 13/16 | 1-5/8 | 1/2 | 1/4-28 |
| S2-087-BLA | S2-087-SSA | 7/8 | 1-5/8 | 1/2 | 1/4-28 |
| S2-093-BLA | S2-093-SSA | 15/16 | 1-3/4 | 1/2 | 1/4-28 |
| S2-100-BLA | S2-100-SSA | 1 | 1-3/4 | 1/2 | 1/4-28 |
| S2-106-BLA | S2-106-SSA | 1-1/16 | 1-7/8 | 1/2 | 1/4-28 |
| S2-112-BLA | S2-112-SSA | 1-1/8 | 1-7/8 | 1/2 | 1/4-28 |
| S2-118-BLA | S2-118-SSA | 1-3/16 | 2-1/16 | 1/2 | 1/4-28 |
| S2-125-BLA | S2-125-SSA | 1-1/4 | 2-1/16 | 1/2 | 1/4-28 |
| S2-131-BLA | S2-131-SSA | 1-5/16 | 2-1/8 | 9/16 | 1/4-28 |
| S2-137-BLA | S2-137-SSA | 1-3/8 | 2-1/4 | 9/16 | 1/4-28 |
| S2-143-BLA | S2-143-SSA | 1-7/16 | 2-1/4 | 9/16 | 1/4-28 |
| S2-150-BLA | S2-150-SSA | 1-1/2 | 2-3/8 | 9/16 | 1/4-28 |
| S2-156-BLA | S2-156-SSA | 1-9/16 | 2-3/8 | 9/16 | 1/4-28 |
| S2-162-BLA | S2-162-SSA | 1-5/8 | 2-5/8 | 11/16 | 5/16-24 |
| S2-168-BLA | S2-168-SSA | 1-11/16 | 2-3/4 | 11/16 | 5/16-24 |
| S2-175-BLA | S2-175-SSA | 1-3/4 | 2-3/4 | 11/16 | 5/16-24 |
| S2-181-BLA | S2-181-SSA | 1-13/16 | 2-7/8 | 11/16 | 5/16-24 |
| S2-187-BLA | S2-187-SSA | 1-7/8 | 2-7/8 | 11/16 | 5/16-24 |
| S2-193-BLA | S2-193-SSA | 1-15/16 | 3 | 11/16 | 5/16-24 |
| Black Oxide | Stainless | Bore I.D. | O.D. | Width In. | Socket Heads |
| S2-200-BLA | S2-200-SSA | 2 | 3 | 11/16 | 5/16-24 |
| S2-212-BLA | S2-212-SSA | 2-1/8 | 3-1/4 | 3/4 | 5/16-24 |
| S2-218-BLA | S2-218-SSA | 2-3/16 | 3-1/4 | 3/4 | 5/16-24 |
| S2-225-BLA | S2-225-SSA | 2-1/4 | 3-1/4 | 3/4 | 5/16-24 |
| S2-231-BLA | S2-231-SSA | 2-5/16 | 3-3/8 | 3/4 | 5/16-24 |
| S2-237-BLA | S2-237-SSA | 2-3/8 | 3-1/2 | 3/4 | 5/16-24 |
| S2-243-BLA | S2-243-SSA | 2-7/16 | 3-1/2 | 3/4 | 5/16-24 |
| S2-250-BLA | S2-250-SSA | 2-1/2 | 3-3/4 | 7/8 | 3/8-24 |
| S2-256-BLA | S2-256-SSA | 2-9/16 | 3-7/8 | 7/8 | 3/8-24 |
| S2-262-BLA | S2-262-SSA | 2-5/8 | 3-7/8 | 7/8 | 3/8-24 |
| S2-268-BLA | S2-268-SSA | 2-11/16 | 4 | 7/8 | 3/8-24 |
| S2-275-BLA | S2-275-SSA | 2-3/4 | 4 | 7/8 | 3/8-24 |
| S2-281-BLA | S2-281-SSA | 2-13/16 | 4-1/4 | 7/8 | 3/8-24 |
| S2-287-BLA | S2-287-SSA | 2-7/8 | 4-1/4 | 7/8 | 3/8-24 |
| S2-293-BLA | S2-293-SSA | 2-15/16 | 4-1/4 | 7/8 | 3/8-24 |
| S2-300-BLA | S2-300-SSA | 3 | 4-1/4 | 7/8 | 3/8-24 |
| S2-318-BLA | S2-318-SSA | 3-3/16 | 4-1/2 | 7/8 | 3/8-24 |
| S2-343-BLA | S2-343-SSA | 3-7/16 | 4-3/4 | 7/8 | 3/8-24 |
| S2-350-BLA | S2-350-SSA | 3-1/2 | 4-3/4 | 7/8 | 3/8-24 |
| S2-393-BLA | S2-393-SSA | 3-15/16 | 5-1/4 | 7/8 | 3/8-24 |
| S2-400-BLA | S2-400-SSA | 4 | 5-1/4 | 7/8 | 3/8-24 |
| S2-475-BLA | S2-475-SSA | 4-3/4 | 6 | 7/8 | 3/8-24 |
| S2-500-BLA | S2-500-SSA | 5 | 6-1/4 | 7/8 | 3/8-24 |
| S2-600-BLA | S2-600-SSA | 6 | 7-1/4 | 7/8 | 3/8-24 |