Double Split Shaft Collars
Dayton Superior Proudcts offers two-piece split shaft collars, also known as double split shaft collars, which are our most versatile shaft collars. Not only do they provide the highest axial load capabilities, but they can be taken on and off the shaft multiple times without clearing the shaft of all other contrivances. Care should be taken when assembling these two-piece collars that both socket head cap screws are seated to the same torque. Both sides should visibly show approximately the same gap between the two halves, (upper and lower).
Our stock is extensive. Stainless steel and black oxide low carbon steel is the norm. We stock many sizes in both of these materials up to and including six inch bores. Two-piece collars also can be ordered with metric or English keyways. This greatly enhances the radial torque capacity in the application. Many other variations are available with these two-piece shaft collars, including upgraded corrosion resistant 316 grade stainless steel, nylon and/or delrin, (thermoplastic) , zinc plated low carbon steel, aluminum, and we can supply them with metric dimensions as well.
We also offer customizable options to meet your unique operational demands, so request a quote today!
Two-Piece Split Collar Features: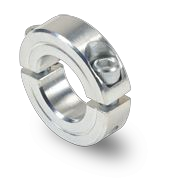 Will not mar shaft
Available Bore Sizes: 1/8" through 6"
Available Finishes: 303, 304 and 316 stainless steel and steel with black oxide finish. Two piece split collars are also available with custom finishes including zinc.
A valued partner for numerous manufacturers, DSP is proud to serve a wide array of companies, working within all sorts of different industries. From Fortune 500 manufacturers to inventive entrepreneurs, we maintain a loyal customer base that appreciates tailored products and solutions. Our double split shaft collars are suited for power transmission applications; however, they are also used in industries including athletic equipment, retail, medical and agricultural. Over the years, we have attained a well-earned reputation for delivering top-tier modified standards and customized products, which meet the unique requirements of our clients. We also offer superior customer service and timely deliveries to help keep your business moving at an optimal level. We are proud to offer competitive pricing on all shaft collar products.
Don't settle for cookie-cutter products and a one-size-fits-all approach. Let Dayton Superior Products provide your company with superior double split collars that will help your business achieve a higher standard of performance. Contact our office at 1-800-227-9083.
| Black Oxide | Stainless | Bore I.D. | O.D. | Width In. | Socket Heads |
| --- | --- | --- | --- | --- | --- |
| S2-012-BLA | S2-012-SSA | 1/8 | 1/2 | 1/4 | 4-40 |
| S2-018-BLA | S2-018-SSA | 3/16 | 5/8 | 5/16 | 4-40 |
| S2-025-BLA | S2-025-SSA | 1/4 | 11/16 | 5/16 | 4-40 |
| S2-031-BLA | S2-031-SSA | 5/16 | 11/16 | 5/16 | 4-40 |
| S2-037-BLA | S2-037-SSA | 3/8 | 7/8 | 11/32 | 6-32 |
| S2-043-BLA | S2-043-SSA | 7/16 | 15/16 | 3/8 | 6-32 |
| S2-050-BLA | S2-050-SSA | 1/2 | 1-1/8 | 13/32 | 8-32 |
| S2-056-BLA | S2-056-SSA | 9/16 | 1-1/4 | 7/16 | 10-32 |
| S2-062-BLA | S2-062-SSA | 5/8 | 1-5/16 | 7/16 | 10-32 |
| S2-068-BLA | S2-068-SSA | 11/16 | 1-3/8 | 7/16 | 10-32 |
| S2-075-BLA | S2-075-SSA | 3/4 | 1-1/2 | 1/2 | 1/4-28 |
| S2-081-BLA | S2-081-SSA | 13/16 | 1-5/8 | 1/2 | 1/4-28 |
| S2-087-BLA | S2-087-SSA | 7/8 | 1-5/8 | 1/2 | 1/4-28 |
| S2-093-BLA | S2-093-SSA | 15/16 | 1-3/4 | 1/2 | 1/4-28 |
| S2-100-BLA | S2-100-SSA | 1 | 1-3/4 | 1/2 | 1/4-28 |
| S2-106-BLA | S2-106-SSA | 1-1/16 | 1-7/8 | 1/2 | 1/4-28 |
| S2-112-BLA | S2-112-SSA | 1-1/8 | 1-7/8 | 1/2 | 1/4-28 |
| S2-118-BLA | S2-118-SSA | 1-3/16 | 2-1/16 | 1/2 | 1/4-28 |
| S2-125-BLA | S2-125-SSA | 1-1/4 | 2-1/16 | 1/2 | 1/4-28 |
| S2-131-BLA | S2-131-SSA | 1-5/16 | 2-1/8 | 9/16 | 1/4-28 |
| S2-137-BLA | S2-137-SSA | 1-3/8 | 2-1/4 | 9/16 | 1/4-28 |
| S2-143-BLA | S2-143-SSA | 1-7/16 | 2-1/4 | 9/16 | 1/4-28 |
| S2-150-BLA | S2-150-SSA | 1-1/2 | 2-3/8 | 9/16 | 1/4-28 |
| S2-156-BLA | S2-156-SSA | 1-9/16 | 2-3/8 | 9/16 | 1/4-28 |
| S2-162-BLA | S2-162-SSA | 1-5/8 | 2-5/8 | 11/16 | 5/16-24 |
| S2-168-BLA | S2-168-SSA | 1-11/16 | 2-3/4 | 11/16 | 5/16-24 |
| S2-175-BLA | S2-175-SSA | 1-3/4 | 2-3/4 | 11/16 | 5/16-24 |
| S2-181-BLA | S2-181-SSA | 1-13/16 | 2-7/8 | 11/16 | 5/16-24 |
| S2-187-BLA | S2-187-SSA | 1-7/8 | 2-7/8 | 11/16 | 5/16-24 |
| S2-193-BLA | S2-193-SSA | 1-15/16 | 3 | 11/16 | 5/16-24 |
| Black Oxide | Stainless | Bore I.D. | O.D. | Width In. | Socket Heads |
| S2-200-BLA | S2-200-SSA | 2 | 3 | 11/16 | 5/16-24 |
| S2-212-BLA | S2-212-SSA | 2-1/8 | 3-1/4 | 3/4 | 5/16-24 |
| S2-218-BLA | S2-218-SSA | 2-3/16 | 3-1/4 | 3/4 | 5/16-24 |
| S2-225-BLA | S2-225-SSA | 2-1/4 | 3-1/4 | 3/4 | 5/16-24 |
| S2-231-BLA | S2-231-SSA | 2-5/16 | 3-3/8 | 3/4 | 5/16-24 |
| S2-237-BLA | S2-237-SSA | 2-3/8 | 3-1/2 | 3/4 | 5/16-24 |
| S2-243-BLA | S2-243-SSA | 2-7/16 | 3-1/2 | 3/4 | 5/16-24 |
| S2-250-BLA | S2-250-SSA | 2-1/2 | 3-3/4 | 7/8 | 3/8-24 |
| S2-256-BLA | S2-256-SSA | 2-9/16 | 3-7/8 | 7/8 | 3/8-24 |
| S2-262-BLA | S2-262-SSA | 2-5/8 | 3-7/8 | 7/8 | 3/8-24 |
| S2-268-BLA | S2-268-SSA | 2-11/16 | 4 | 7/8 | 3/8-24 |
| S2-275-BLA | S2-275-SSA | 2-3/4 | 4 | 7/8 | 3/8-24 |
| S2-281-BLA | S2-281-SSA | 2-13/16 | 4-1/4 | 7/8 | 3/8-24 |
| S2-287-BLA | S2-287-SSA | 2-7/8 | 4-1/4 | 7/8 | 3/8-24 |
| S2-293-BLA | S2-293-SSA | 2-15/16 | 4-1/4 | 7/8 | 3/8-24 |
| S2-300-BLA | S2-300-SSA | 3 | 4-1/4 | 7/8 | 3/8-24 |
| S2-318-BLA | S2-318-SSA | 3-3/16 | 4-1/2 | 7/8 | 3/8-24 |
| S2-343-BLA | S2-343-SSA | 3-7/16 | 4-3/4 | 7/8 | 3/8-24 |
| S2-350-BLA | S2-350-SSA | 3-1/2 | 4-3/4 | 7/8 | 3/8-24 |
| S2-393-BLA | S2-393-SSA | 3-15/16 | 5-1/4 | 7/8 | 3/8-24 |
| S2-400-BLA | S2-400-SSA | 4 | 5-1/4 | 7/8 | 3/8-24 |
| S2-475-BLA | S2-475-SSA | 4-3/4 | 6 | 7/8 | 3/8-24 |
| S2-500-BLA | S2-500-SSA | 5 | 6-1/4 | 7/8 | 3/8-24 |
| S2-600-BLA | S2-600-SSA | 6 | 7-1/4 | 7/8 | 3/8-24 |