Single Split Shaft Collars
Available in a variety of bore sizes, Dayton Superior Products offers single split shaft collars, which wrap around the shaft to deliver an evenly distributed clamping force. This provides a tighter fit and increased holding power, without the typical shaft damage associated with set screws shaft collars.
Indefinitely adjustable and easy to remove, one-piece clamping collars are typically used on hard or soft standard round shafts, over a split hub or on thin wall tube. By using friction to provide superior grip on bars and shafts, single split collars offer sturdier, more dependable results when compared to the set screw design of solid collars. They also offer tremendous axial power, while minimizing shaft distortion for superior performance and decreased wear and tear.
DSP's stainless steel and black oxide single split collars work well on just about any shaft. They're also durable, cost-effective and incredibly easy to use: simply slide the collar into position and tighten the screw to lock it in place.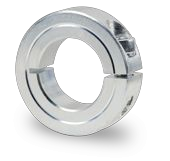 Single Split Collars Features
Will not mar shaft
Superior finish, fit and holding power
REACH and RoHS2 Compliant
Available Bore Sizes: 1/8" through 6" in inside diameter
Available Materials: 303, 304 and 316 stainless steel and steel with Black Oxide Finish. We are also able to manufacture single split collars with a custom finish, including zinc.
An application driven company, Dayton Superior Products is proud to serve a diverse customer base, consisting of Fortune 500 manufacturers, inventive entrepreneurs and everything in between. In addition to power transmission applications, our one piece collars are used in medical, retail, marine, agricultural and athletic equipment industries. With years of experience and incomparable expertise, we've established a well-earned reputation for delivering modified standards and completely customized products that meet the unique demands of the customers we value so much.
Let us provide you with top-quality single split collars and other high-performing products to help your business achieve its goals. Contact our office at 1-800-227-9083.
| Black Oxide | Stainless | Bore I.D. | O.D. | Width In. | Socket Heads |
| --- | --- | --- | --- | --- | --- |
| S1-012-BLA | S1-012-SSA | 1/8 | 1/2 | 1/4 | 4-40 |
| S1-018-BLA | S1-018-SSA | 3/16 | 5/8 | 5/16 | 4-40 |
| S1-025-BLA | S1-025-SSA | 1/4 | 11/16 | 5/16 | 4-40 |
| S1-031-BLA | S1-031-SSA | 5/16 | 11/16 | 5/16 | 4-40 |
| S1-037-BLA | S1-037-SSA | 3/8 | 7/8 | 11/32 | 6-32 |
| S1-043-BLA | S1-043-SSA | 7/16 | 15/16 | 3/8 | 6-32 |
| S1-050-BLA | S1-050-SSA | 1/2 | 1-1/8 | 13/32 | 8-32 |
| S1-056-BLA | S1-056-SSA | 9/16 | 1-1/4 | 7/16 | 10-32 |
| S1-062-BLA | S1-062-SSA | 5/8 | 1-5/16 | 7/16 | 10-32 |
| S1-068-BLA | S1-068-SSA | 11/16 | 1-3/8 | 7/16 | 10-32 |
| S1-075-BLA | S1-075-SSA | 3/4 | 1-1/2 | 1/2 | 1/4-28 |
| S1-081-BLA | S1-081-SSA | 13/16 | 1-5/8 | 1/2 | 1/4-28 |
| S1-087-BLA | S1-087-SSA | 7/8 | 1-5/8 | 1/2 | 1/4-28 |
| S1-093-BLA | S1-093-SSA | 15/16 | 1-3/4 | 1/2 | 1/4-28 |
| S1-100-BLA | S1-100-SSA | 1 | 1-3/4 | 1/2 | 1/4-28 |
| S1-106-BLA | S1-106-SSA | 1-1/16 | 1-7/8 | 1/2 | 1/4-28 |
| S1-112-BLA | S1-112-SSA | 1-1/8 | 1-7/8 | 1/2 | 1/4-28 |
| S1-118-BLA | S1-118-SSA | 1-3/16 | 2-1/16 | 1/2 | 1/4-28 |
| S1-125-BLA | S1-125-SSA | 1-1/4 | 2-1/16 | 1/2 | 1/4-28 |
| S1-131-BLA | S1-131-SSA | 1-5/16 | 2-1/8 | 9/16 | 1/4-28 |
| S1-137-BLA | S1-137-SSA | 1-3/8 | 2-1/4 | 9/16 | 1/4-28 |
| S1-143-BLA | S1-143-SSA | 1-7/16 | 2-1/4 | 9/16 | 1/4-28 |
| S1-150-BLA | S1-150-SSA | 1-1/2 | 2-3/8 | 9/16 | 1/4-28 |
| S1-156-BLA | S1-156-SSA | 1-9/16 | 2-3/8 | 9/16 | 1/4-28 |
| S1-162-BLA | S1-162-SSA | 1-5/8 | 2-5/8 | 11/16 | 5/16-24 |
| S1-168-BLA | S1-168-SSA | 1-11/16 | 2-3/4 | 11/16 | 5/16-24 |
| S1-175-BLA | S1-175-SSA | 1-3/4 | 2-3/4 | 11/16 | 5/16-24 |
| S1-181-BLA | S1-181-SSA | 1-13/16 | 2-7/8 | 11/16 | 5/16-24 |
| S1-187-BLA | S1-187-SSA | 1-7/8 | 2-7/8 | 11/16 | 5/16-24 |
| S1-193-BLA | S1-193-SSA | 1-15/16 | 3 | 11/16 | 5/16-24 |
| Black Oxide | Stainless | Bore I.D. | O.D. | Width In. | Socket Heads |
| S1-200-BLA | S1-200-SSA | 2 | 3 | 11/16 | 5/16-24 |
| S1-212-BLA | S1-212-SSA | 2-1/8 | 3-1/4 | 3/4 | 5/16-24 |
| S1-218-BLA | S1-218-SSA | 2-3/16 | 3-1/4 | 3/4 | 5/16-24 |
| S1-225-BLA | S1-225-SSA | 2-1/4 | 3-1/4 | 3/4 | 5/16-24 |
| S1-231-BLA | S1-231-SSA | 2-5/16 | 3-3/8 | 3/4 | 5/16-24 |
| S1-237-BLA | S1-237-SSA | 2-3/8 | 3-1/2 | 3/4 | 5/16-24 |
| S1-243-BLA | S1-243-SSA | 2-7/16 | 3-1/2 | 3/4 | 5/16-24 |
| S1-250-BLA | S1-250-SSA | 2-1/2 | 3-3/4 | 7/8 | 3/8-24 |
| S1-256-BLA | S1-256-SSA | 2-9/16 | 3-7/8 | 7/8 | 3/8-24 |
| S1-262-BLA | S1-262-SSA | 2-5/8 | 3-7/8 | 7/8 | 3/8-24 |
| S1-268-BLA | S1-268-SSA | 2-11/16 | 4 | 7/8 | 3/8-24 |
| S1-275-BLA | S1-275-SSA | 2-3/4 | 4 | 7/8 | 3/8-24 |
| S1-281-BLA | S1-281-SSA | 2-13/16 | 4-1/4 | 7/8 | 3/8-24 |
| S1-287-BLA | S1-287-SSA | 2-7/8 | 4-1/4 | 7/8 | 3/8-24 |
| S1-293-BLA | S1-293-SSA | 2-15/16 | 4-1/4 | 7/8 | 3/8-24 |
| S1-300-BLA | S1-300-SSA | 3 | 4-1/4 | 7/8 | 3/8-24 |
| S1-318-BLA | S1-318-SSA | 3-3/16 | 4-1/2 | 7/8 | 3/8-24 |
| S1-343-BLA | S1-343-SSA | 3-7/16 | 4-3/4 | 7/8 | 3/8-24 |
| S1-350-BLA | S1-350-SSA | 3-1/2 | 4-3/4 | 7/8 | 3/8-24 |
| S1-393-BLA | S1-393-SSA | 3-15/16 | 5-1/4 | 7/8 | 3/8-24 |
| S1-400-BLA | S1-400-SSA | 4 | 5-1/4 | 7/8 | 3/8-24 |
| S1-475-BLA | S1-475-SSA | 4-3/4 | 6 | 7/8 | 3/8-24 |
| S1-500-BLA | S1-500-SSA | 5 | 6-1/4 | 7/8 | 3/8-24 |
| S1-600-BLA | S1-600-SSA | 6 | 7-1/4 | 7/8 | 3/8-24 |