Threaded Single Split Collars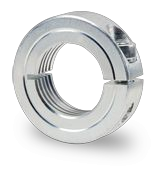 Dayton Superior Products offers one piece clamping collars, which are applied to threaded shafts and have the same advantages as indicated for regular single split shaft collars. Wrapping around the shaft, they distribute clamping force evently, providing a better fit with increased holding power. This helps the shaft avoid damages associated with set screw shaft collars.  They are easy to adjust and remove.  All of our threaded shaft collars are manufactured in stainless steel,  black oxide finishes or custom materials  and come in a vairety of sizes.
Threaded Clamping Collar Features:
Our threaded collars are typically used in power transmission applications; however, they are also used in medical, retail, agricultural and athletic equipment industries. Dayton Supeior Products is proud to offer competitive pricing with warm customer service. To learn more about our threaded collars, please contact us today!
| Black Oxide | Stainless Steel | Bore I.D. | O.D. | Width In. | Set Screw |
| --- | --- | --- | --- | --- | --- |
| S1-010-32-BLA | S1-010-32-SSA | 10-32 | 5/8 | 5/16 | 4-40x3/8 |
| S1-025-20-BLA | S1-025-20-SSA | 1/4-20 | 5/8 | 5/16 | 4-40x3/8 |
| S1-025-28-BLA | S1-025-28-SSA | 1/4-28 | 11/16 | 5/16 | 4-40x3/8 |
| S1-031-18-BLA | S1-031-18-SSA | 5/16-18 | 11/16 | 5/16 | 4-40x3/8 |
| S1-031-24-BLA | S1-031-24-SSA | 5/16-24 | 11/16 | 5/16 | 4-40x3/8 |
| S1-037-16-BLA | S1-037-16-SSA | 3/8-16 | 7/8 | 11/32 | 6-32x1/2 |
| S1-037-24-BLA | S1-037-24-SSA | 3/8-24 | 7/8 | 11/32 | 6-32x1/2 |
| S1-043-14-BLA | S1-043-14-SSA | 7/16-14 | 15/16 | 3/8 | 6-32x1/2 |
| S1-043-20-BLA | S1-043-20-SSA | 7/16-20 | 15/16 | 3/8 | 6-32x1/2 |
| S1-050-13-BLA | S1-050-13-SSA | 1/2-13 | 1-1/8 | 13/32 | 8-32x1/2 |
| S1-050-20-BLA | S1-050-20-SSA | 1/2-20 | 1-1/8 | 13/32 | 8-32x1/2 |
| S1-062-11-BLA | S1-062-11-SSA | 5/8-11 | 1-5/16 | 7/16 | 10-32x1/2 |
| S1-062-18-BLA | S1-062-18-SSA | 5/8-18 | 1-5/16 | 7/16 | 10-32x1/2 |
| S1-075-10-BLA | S1-075-10-SSA | 3/4-10 | 1-1/2 | 1/2 | 1/4-28x5/8 |
| S1-075-16-BLA | S1-075-16-SSA | 3/4-16 | 1-1/2 | 1/2 | 1/4-28x5/8 |
| S1-087-09-BLA | S1-087-09-SSA | 7/8-9 | 1-5/8 | 1/2 | 1/4-28x5/8 |
| S1-087-14-BLA | S1-087-14-SSA | 7/8-14 | 1-5/8 | 1/2 | 1/4-28x5/8 |
| S1-100-08-BLA | S1-100-08-SSA | 1-8 | 1-3/4 | 1/2 | 1/4-28x5/8 |
| S1-100-12-BLA | S1-100-12-SSA | 1-12 | 1-3/4 | 1/2 | 1/4-28x5/8 |
| S1-100-14-BLA | S1-100-14-SSA | 1-14 | 1-3/4 | 1/2 | 1/4-28x5/8 |
| S1-112-12-BLA | S1-112-12-SSA | 1-1/8-12 | 1-7/8 | 1/2 | 1/4-28x5/8 |
| S1-125-07-BLA | S1-125-07-SSA | 1-1/4-7 | 2-1/16 | 1/2 | 1/4-28x5/8 |
| S1-125-12-BLA | S1-125-12-SSA | 1-1/4-12 | 2-1/16 | 1/2 | 1/4-28x5/8 |
| S1-150-06-BLA | S1-150-06-SSA | 1-1/2-6 | 2-3/8 | 9/16 | 1/4-28x5/8 |
| S1-150-12-BLA | S1-150-12-SSA | 1-1/2-12 | 2-3/8 | 9/16 | 1/4-28x5/8 |
| S1-200-12-BLA | S1-200-12-SSA | 2-12 | 3 | 11/16 | 5/16-24x7/8 |
| S1-225-12-BLA | S1-225-12-SSA | 2-1/4-12 | 3-1/4 | 3/4 | 5/16-24x7/8 |