Tooth Clutches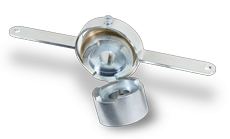 Dayton Superior Products, a supplier of clutches, shaft collars and other power transmission components, offers customization of tooth clutches to comply with exacting application requirements.
These clutches are ultra-reliable couplings used in gearbox and machine tool applications. The clutch is comprised of two halves: a moveable shifter side and a stationary bearing side. The two parts of the clutch work together to both engage and disengage axially. The axle can rotate or remain idle; the performance of the tooth clutch is strong in either case. A Tooth clutch generally has a longer lifespan than a drive shaft, ensuring utmost machine efficiency.
Dayton offers two types of customizable tooth clutches: coupling and bearing styles. The coupling tooth clutch features an internal keyway on both the stationary and shifter sides; the bearing clutch is outfitted with a keyway on the shifter and bearing on the stationary side. Both of these tooth clutch types function with a mounted shifter assembly to facilitate axial engaging and disengaging during rotation or idling.
Tooth clutches possessing at least three teeth lend strength and economy to your operation. Adding more teeth as needed allows for earlier engagement at slower speeds. The industry-leading engineers at Dayton Superior Products are happy to assist customers with tooth clutch design ideas based on application requirements.
Custom Tooth Clutches

Dayton Superior Products works in partnership with small business owners and Fortune 500 companies alike. We offer solutions, services and support on all of our products. Contact us today for a price quote or to learn more about our catalog of products.
» Expanded View
» Tooth Clutch Design
Download Product Details(*13.5 Mb download)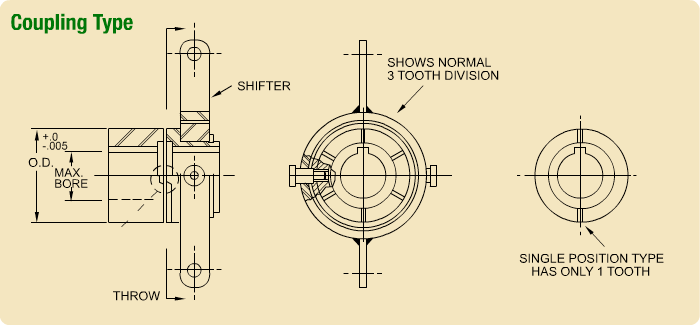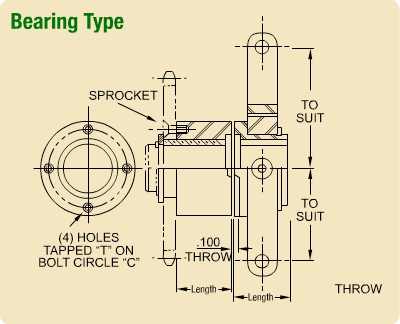 Notes:
Coupling (C) Type has internal keyway. Bearing (B) Type has oil impregnated bearing. Shifter assembly can be mounted on either type clutch for a small additional charge. Stationary side length can be increased as needed. Standard clutch has 3 teeth spaced 60º apart.
P/N EXAMPLES
Size: 1153-1.5
Type: C
No. Teeth: 3
Tooth Form: S
Bore Size: 3/4B
SHIFTER ARM
1153-1.5 x 6 x 6
Upper Extension (Actuating) 6
Lower Extention (Pivot) 6
For Shifter with holes 6 & 6 from C shaftL
Size
Outside Diameter
Std. Bore Shaft Diameter
Max. Bore Shaft Diameter
Std. No. of Teeth
Tooth Depth
Tooth Width
Clutch Length Open
Sifter or Stationary Length
Std. Throw
Stationary Side
Actuating Arm Bolt Hole Size
T Tapped Holes
C Diameter Bolt Circle
1
1.000
1/2
1/2
3
.080
.125
1.350
.625
.100
#4
.880
.281
1.5
1.500
3/4
3/4
3
.080
.175
1.850
.875
.100
#6
1.220
.281
2
2.000
1
1
3
.080
.250
2.600
1.250
.100
#8
1.690
.281
3
3.000
1-1/2
1-1/2
3
.180
.375
3.600
1.750
.100
#10
2.540
.406
4
4.000
2
2-1/4
3
.200
.438
5.250
2.500
.250
1/4
3.500
.406
6
6.000
3
3-1/2
3
.200
.625
7.250
3.500
.250
3/8
5.250
.656
Contact one of our sales representatives today
to inquire about a quote from Dayton Superior Products
or call us today at 800-227-9083