Single Revolution Clutch

How Does a Single Revolution Clutch Work?

In a Single Revolution Clutch the sprocket or other specified device, such as a pulley, gear, flywheel, etc., rotates continuously counterclockwise while the pawl is engaged and drives the shaft counterclockwise whenever the pawl (A) is removed. Any fixed angle of rotation is possible from a fraction of a revolution, obtained by using more than one pin, to any number of whole revolutions by allowing the pawl to stay disengaged. The most common revolution is a single revolution. This can easily be reversed to be clockwise driven.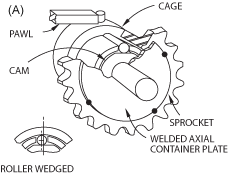 The cam is keyed to the shaft and is driven by the sprocket when the rollers are allowed to wedge between them as shown in the front view diagram (B). The rollers are held in a neutral, or radial position, by the cage when the pin protruding from the cage is blocked by the pawl. When the pawl is disengaged, the spring shown in the photograph of the back view (C) causes the cage to move the rollers back into engagement.
To help you understand this operation you will notice that when the pawl is engaged, the rollers are disengaged. When the pawl is disengaged, the rollers are engaged.
See our other Shaft Clutch varieties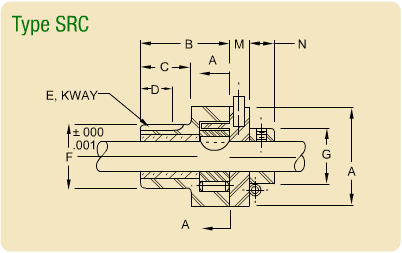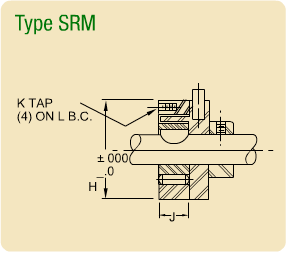 SRM-SRC
Size
Torque
Lb.- Ft.
A
B
C
D
E
F
G
H
J
K
L
M
N
Standard Bores
SRM-SRC
14
14
2
1-13/16
1
9/16
3/16 X 3/32
1.250
1-1/8
1.876
.630
6-32
1.687
3/8
3/8
3/8, 1/2, 5/8
SRM-SRC
100
100
3-3/8
2-3/4
1-7/16
1
1/4 X 1/8
1.750
1-5/8
3.501
1.032
10-32
3.000
1/2
1/2
3/4, 7/8, 1, 1-1/8, 1-1/4
Contact one of our sales representatives today
to inquire about a quote from Dayton Superior Products
or call us today at 800-227-9083